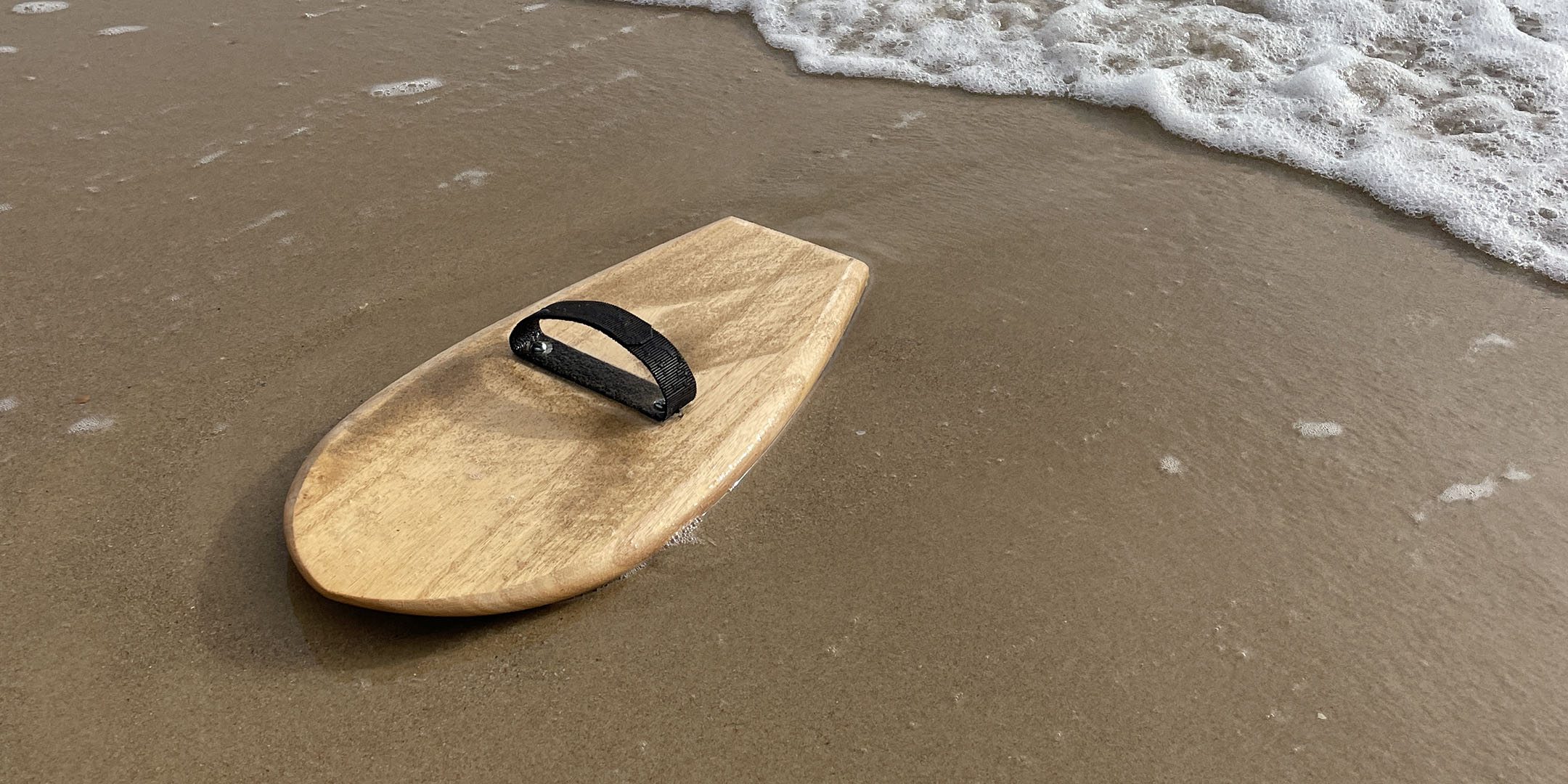 **THIS WORKSHOP IS SOLD OUT**
Forget the boat (just for a little while) and become the vessel! In this unique workshop, Stuart Bywater will help you craft your very own wooden handboard ready for you to surf the waves.
What's a Handboard?
A handboard is a mini-surfboard that fits on your hand. It's used as a planing device on water to help you bodysurf faster, longer and with more control. 
This unique workshop aims to give individual and focused support for students to gain general skills and build knowledge in woodworking. Experienced makers, along with beginners, are welcome. Please see below for workshop details.
About Stuart Bywater
After 36 years in the woodworking industry, Stuart has merged his two passions, surfing and woodworking, and has established himself as one of the leading timber surfboard craftspeople in Australia. Working with Paulownia, Cedar, and other exotic timbers, he has perfected the craft of hollow wooden surfboard making. Stuart combines techniques inspired by the watermen of the 1930s with modern advances in materials to work towards an environmentally sustainable craft and product.
The result is a magnificent work of art: solid, dependable, beautiful, sustainable — a stunning, collectable surf craft you can ride!
Sharing his passion of wooden surf craft, Stuart will teach the art of making a wooden handboard, demonstrating the construction methods he has perfected in the timber surfboard classes he hosts in Brisbane.
Ticketing Terms & Conditions: Tickets are non-refundable except in the case that the event has been cancelled by the Australian Wooden Boat Festival. By purchasing a ticket you agree to all ticketing terms and conditions found here.
1
What are the workshop dates & duration?
There are three workshop dates available across the Festival weekend.

Workshop 1: Saturday 11 February from 10am-2pm.

Workshop 2: Sunday 12 February from 10am-2pm.

Workshop 3: Monday 13 February from 10am-2pm.

All three workshops run for a total of 4 hours.
2
What is the price of the workshop?
$110 + Eventbrite booking fee, per student per workshop.
3
Where is the workshop located?
At the Noisy Boatyard, which is located near Franklin Wharf and next to the Blundstone Shipwright's Village, Hobart Waterfront.
4
How many students are there in a workshop?
Each workshop has a limited capacity of up to 8 students.
5
Do I need any woodworking experience?
No experience is required. Although, experienced makers, along with beginners, are welcome.
6
Do I need to provide my own tools, equipment or materials?
All tools, equipment and materials will be provided for the workshop.
7
Is this workshop event accessible?
This is a workshop environment; please expect uneven surfaces and varying levels of access related to the use of workstations and tools. If you require further information about accessibility for this event please contact boxoffice@awbf.org.au or call the office on 03 6223 3375. Please note, we are a small team of staff and volunteers but we will endeavour to respond to any queries within 72 hours (excluding weekends and Public Holidays).